WELCH HIGH SCHOOL
ALUMNI COOKOUT -- 2004
(just wanted to share with you some of the special moments I experienced on my way to the picnic - Donnie)

---
Hard as I tried I couldn't drag them away from Florida for the picnic. But we did get together for lunch in Orlando:
Reva Baker Stevenson, Donnie Collins Skuja, Dee Santo Qualls (all from the WHS Class of 1961) and her mother, Ellen Santo who also attended WHS in the early '40s. YES, the 40s! Doesn't she look fantastic?


---
On the drive from Florida to the picnic in Welch, I stopped for a few days at Smith Mountain Lake where I visited with my former Maryland neighbor, Rhonda Newbauer, and Ginny (Bolt) and her husband Marty Loula. Ginny was a member of the first WHS May Court and, as you can see, she's still quite a lovely lady.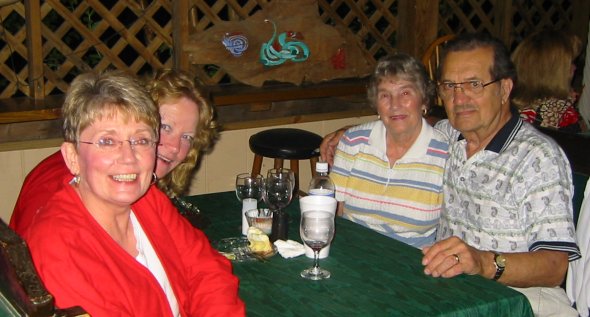 ---
Bear with me here.....this is one of those "small world" stories. Ginny & Marty's neighbor at Smith Mountain Lake is Lillian Pearman. Visiting Lillian was her daughter, Vicky, and some of Vicky's friends from northern Virginia. One, who overheard me talking about the WHS Alumni picnic, indicated she'd recently been in Welch for her husband's 40th class reunion. Below (all "dressed" up to play a joke on another friend) are Vicky, Bonnie (wife of WHS Class of '64, Tom Bary), and another friend. (Sorry, I don't remember her name.)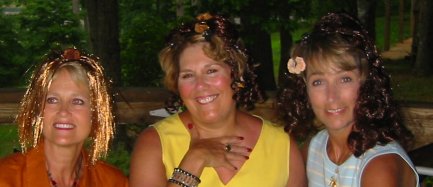 But wait....that's not the end of this story. A few months after the picnic, Ronnie showed me some grade school pictures he'd recently acquired and one in particular jumped right out at me. I sort of "recognized" one of the boys in the picture, flipped it over and there was his name, Ron Pearman. Ron, Vicky's older brother, attended Welch Elementary through 4th grade with some of the WHS Class of '64 before his family moved to Coalwood. Here's a picture of Ron in a 3rd grade skit called "Winter Wonderland."


---

Please contact Donnie Collins Skuja at dskuja02@sprynet.com if you have any questions/comments/additions
for this web page.