WHS CLASS OF 1957
20th Reunion at Frankie's La Salute in Bluewell
Summer of 1977
to view larger version click HERE

First row l-r: Curtis Grubb, Tony Miano, Tom Cloer, Richard White, Ronnie Lane, Rush Floyd, Joe Ed Phillips, Andy Tolnay, Marcus Smith, Buford Muncy; Second row: Elizabeth Richardson, Mary Carter, Anna Mae Lambert, Pat Shoun, ??, Shelby Rotenberry, Barbara Dawson, Pola Noe, Brenda Muncy, Shelby Lane, ??, Lila Snow, Wanda Goad, Laquatta Rose, Joyce Hall, ??, Third row: Jim Rose, ??, ??, Patricia White, ??, Shelia Belcher, Margaret Campbell, Ann Tucker, Ann Barnes, Nilda Ramella, Elaine Breeding, Pat Donnelly, Cuzzie Belcher, Faye Tolley, Pam Grubb, Gale Mooney, Frances Smith, Jeanne Grogan, Jake Tyson, Bob Adams, Ron Thompson, John Smith; Fourth row: ??, ??, Ron Gunter, James Barrass, Buddy Johnson, Tom Kuhn, Sam Spangler, Richard Clark, Mike Callaway, Jack Katona, C.J. Honaker, James Pennington, Bud Donchatz.





1995 Reunion of WHS Class of 1957
to view larger version click HERE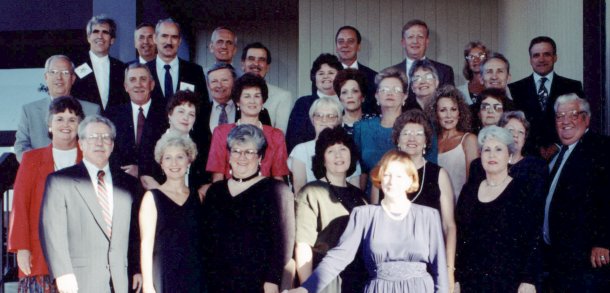 Front: ??. First row l-r: Joe Ed Phillips, NildaRamella, Brenda Muncy, Barbara Mitchell, Margaret Campbell, Ann Tucker; Second row: Shelby Rotenberry, Barbara Dawson, Pola Noe, Lila Snow, Cuzzie Belcher, Pat Donnelly, ??, Wanda Goad, Kenny Crabtree; Third row: Mike Callaway, Andy Tolnay, Tom Cloer, Evelyn Sheffey; Fourth row: Ron Thompson, Sam Spangler, Tony Miano, Geraldine Rotenberry, Faye Tolley, Pete Plymale; Fifth row: Dexter Dillon, John Smith, Bud Donchatz, Jim Rose, ??, David Bowlick.


---

Thanks to Faye Tolley Milam for sharing these photos with us.

Please contact Don Juan Skuja or Faye if you can identify the unknown (??) persons
in these photos and/or if we have incorrectly identified anybody.