WELCH HIGH SCHOOL
Classes of '49, '50, & '51
Golden Anniversary Reunion
Alumni from the 1949, 50 & 51 and their guests assembled at Pipestem Resort Park,
June 16 - 18, 2000, for their 50 year class reunion. A picnic serving as the get-reacquainted function was held on Friday. Saturday morning and afternoon were spent reminiscing, visiting and shopping; and some of the classmates visited one of their former teachers, Miss Elizabeth Kailing, at her home in Princeton. Class photo settings and the reunion dinner-dance was held Saturday night. On Sunday there was a breakfast followed by a service of worship conducted by various lay and ordained classmates in attendance.
Class of 1949
(Click HERE to see a larger version of this picture)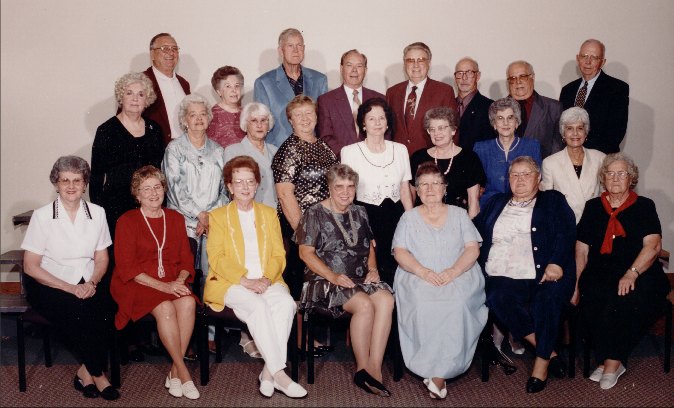 (photo by Grubb Photo, P.O. Box 100, Bluefield, WV)
Front L-R: Lois Black Godfrey, Evelyn Crabtree Elkins, Betty Tibbs Hagenrater, Kathlyn Beverly Richardson, Mable Triplett Huli, Pauline Walters McGimsey, Verla Arnold Felts; Second Row: Peggy Sells, Reba Compton Bolt, Joyce Romans Cunningham, Janie Walters Caldwell, Lena Belfiore Buccarelli, Norma Linkous Paley, Nancy Majestro Rasi, Lucille Pascone Rincich; Third Row: Whitley "Bobo" Henderson, Florence Hendricks, Bobby Pearman, Paul Day, Curtis Kemp, Charles McDonald, Eddie Pascone, & Edward "Sonny" Burton. Absent from picture : Joan Romans O'Neil.
---
Class of 1950
(To see a larger version of this picture, click HERE )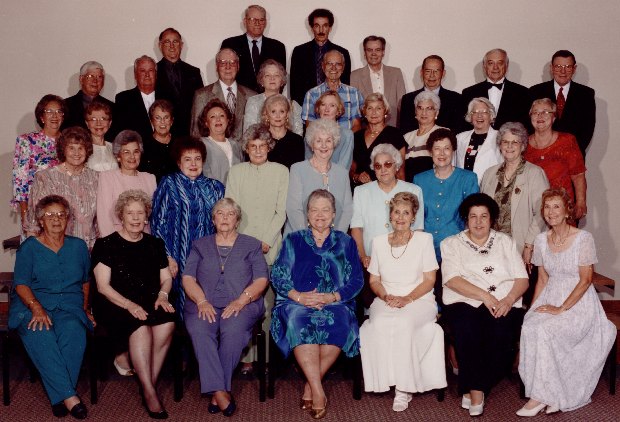 (photo by Grubb Photo, P.O. Box 100, Bluefield, WV)
Front L-R: Hallie Boyd Siebel, Jerry McGee Worley, Jacqueline Swim Strattis, Betty Young Fanning, Bonnie Belcher Gattuso, Mary Patrinicola Porter, Iris Allen Panzetta; Second Row: Cindy Meade, Josephine Majestro Chiari, Carole Arnold, Louise Mills Justice, Dorothy Mitchell Bignotti, Mary Verduce Gianato, Alice Chapman Rubash, Wanda Shook Harmon; Third Row: Glenna Christian Pack, Charlene Warren Hinnant, Patricia Jones, Josephien Ricci O'Neall, Dorothy West Hodges, Virginia Goodson Arentzen, Betty Johnson Dandelet, Mary Chiericozzi Setzer, Carol Price Clark, Joan Whyte Blackburn; Fourth Row: Jimmy Hampton, Bobby Sigmon, Donn Branch, Peggy Rolen Hatfield, James Perdue, Ronald Roberts, Dan Zaccagnini, Don Stacks; Fifth Row: Masol Bowman, James Rich, Howard Hull, & John Banks.
---
Class of 1951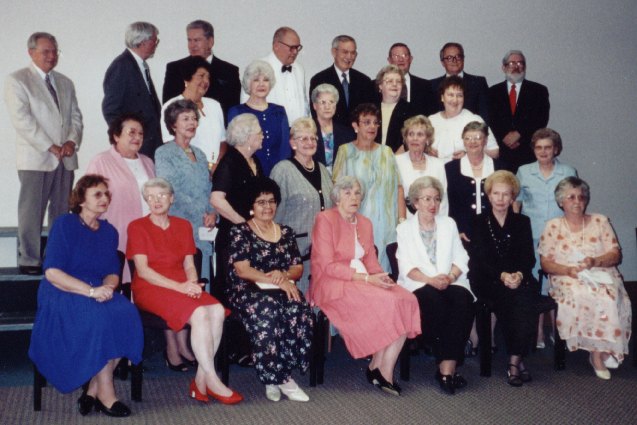 (enlarged version of a snapshot)
Front L-R: Bonnie McDonald White, Billy Linkous Perry, Helen Quesada Day, Peggy Mabry Bowman, Eula Bradley Behr, Florene Cline Walker, Opal Kitchen Parobek; Second Row: Minnie Spencer Robinson, Nancy Sells Wagner, Carol Christy Branch, Barbara Shaw Reed, Louella Hunt Nester, Gaye Murphy Hamden, Mary Cisco Korezyk, Lucille Kemp Huff; Third Row: Lousie Farris Kaline, Ida May Farris Currin, Marietta Clagg Young, Nancy Dalton Akers, Ella Arnold Bauer; Fourth Row: Jim Rush, Robert Bratton, Deano Farris, Don Hawthorne, Tom Branch, Bob Smith, Richard Tabor & Carl Greever.
---
If you have a copy of the full-size 1951 group photo we can use to scan and copy, please contact
Donnie Skuja by email or call me at 410-549-7190 or send me mail at 741 West Watersville Road, Mount Airy, MD 21771.
Click Here to see some snapshots taken at the reunion.

2004 Reunion for WHS Classes of 1949, 1950 & 1951

Links to Additional WHS Picture Links